Well this week has just flown passed!  A lot of driving, and the best time with my family down south.  All was going fantastically well until I was brought up short last Sunday to find that someone had stolen nearly £1500 from my bank via internet banking.  OMG!!!!!!  Not the best start to my holiday but all was restored eventually when I called the fraud department in a complete panic on Monday.  It was quite a kick up the backside as I consider myself really computer savvy and careful – to be honest I've always thought that those affected by internet banking fraud must be complete numpties and here I am – numpty* (see bottom of post) number 1!  I'm a super paranoid and careful numpty now though…
Anyway, once I'd finished my phone calls on Monday, Emma and I returned back up to Scotland and we had a fantastic week.  I'm afraid I've been a bit lax in taking photos – we've been busy doing and not recording, however Emma did take more than me and all the photos in this post are hers.
We did some sewing…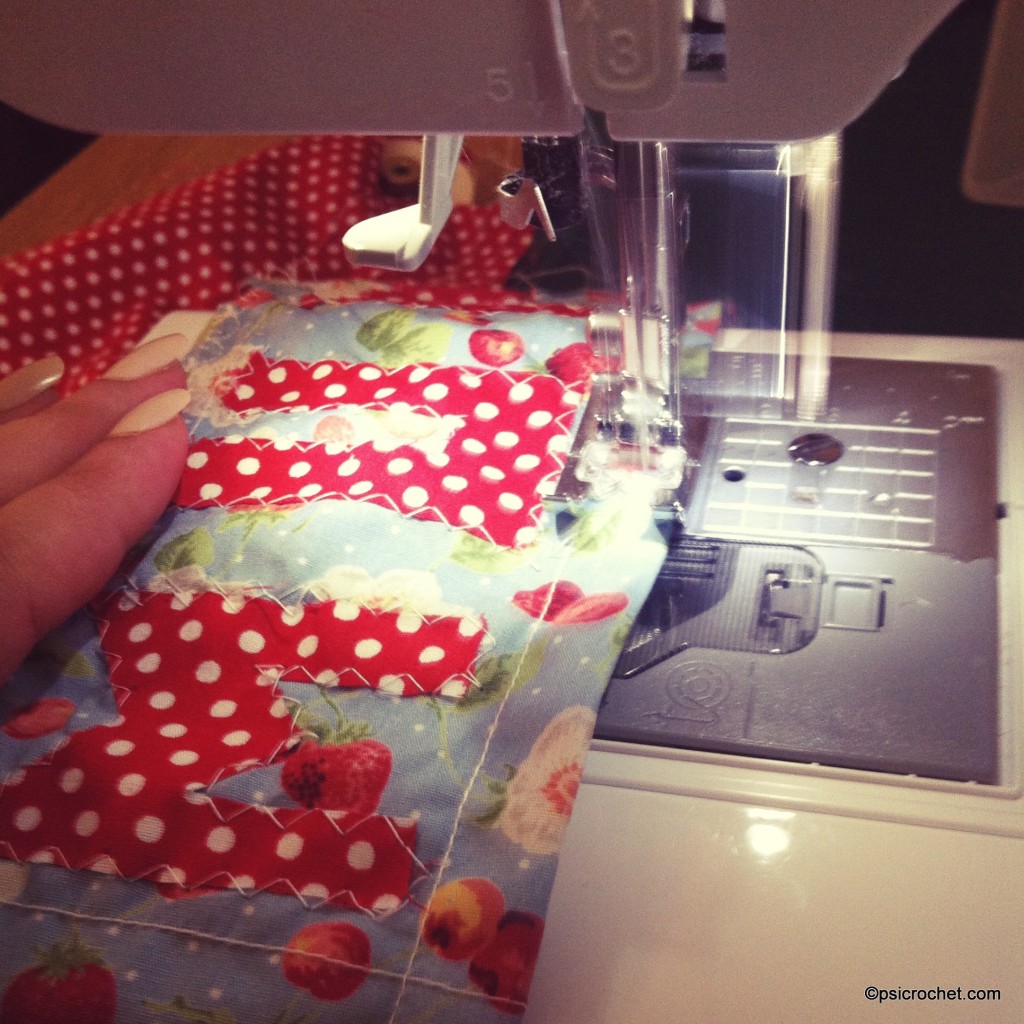 Quite a bit of sewing actually; Emma enjoyed adding to the hand patchwork at the top of this post.  She then ventured into applique and made a gorgeous cushion cover.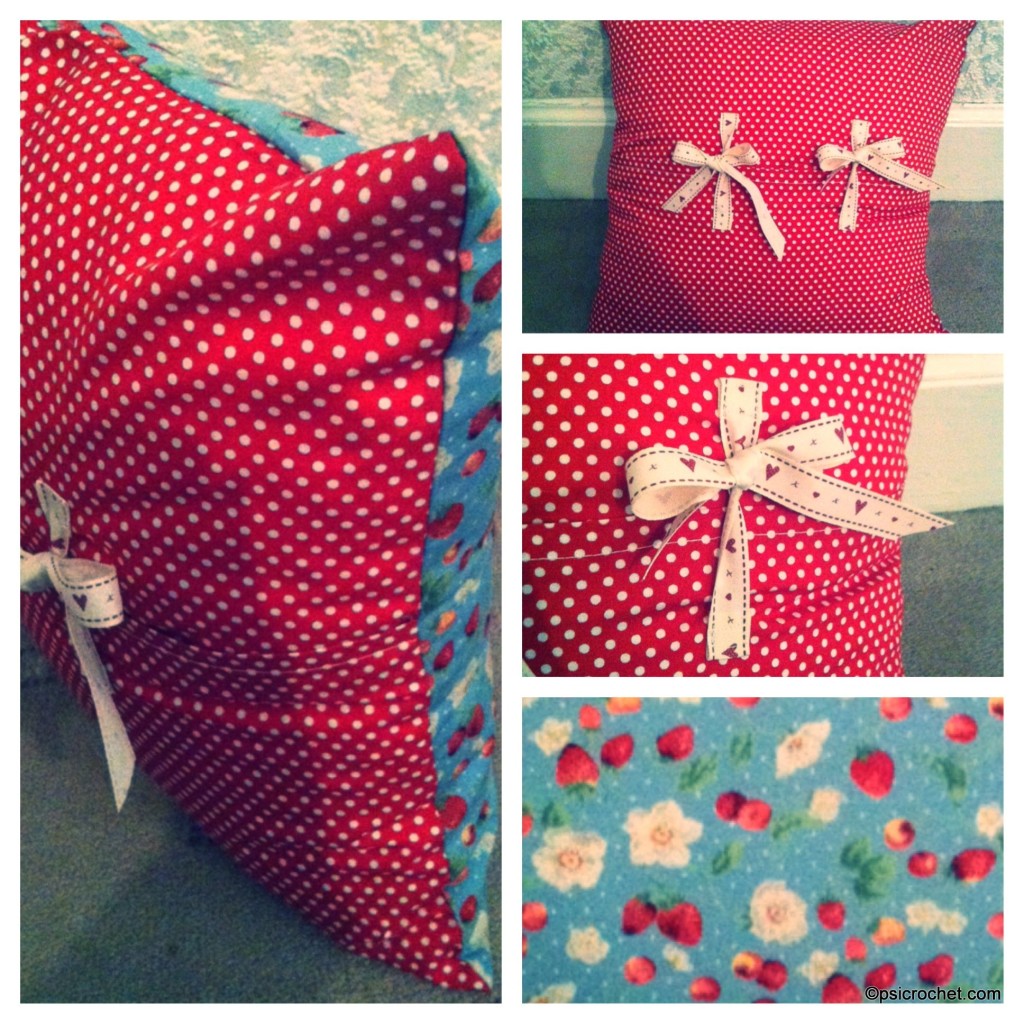 She then graduated onto the main event – making something to wear.  We (well Emma with me mainly watching!) made a lovely fitted top with a contrast halter neck.  Alas we didn't take a picture, but we did get some help from Sophie who acted as official paperweight as we cut out the pattern – bit windy in my sitting room.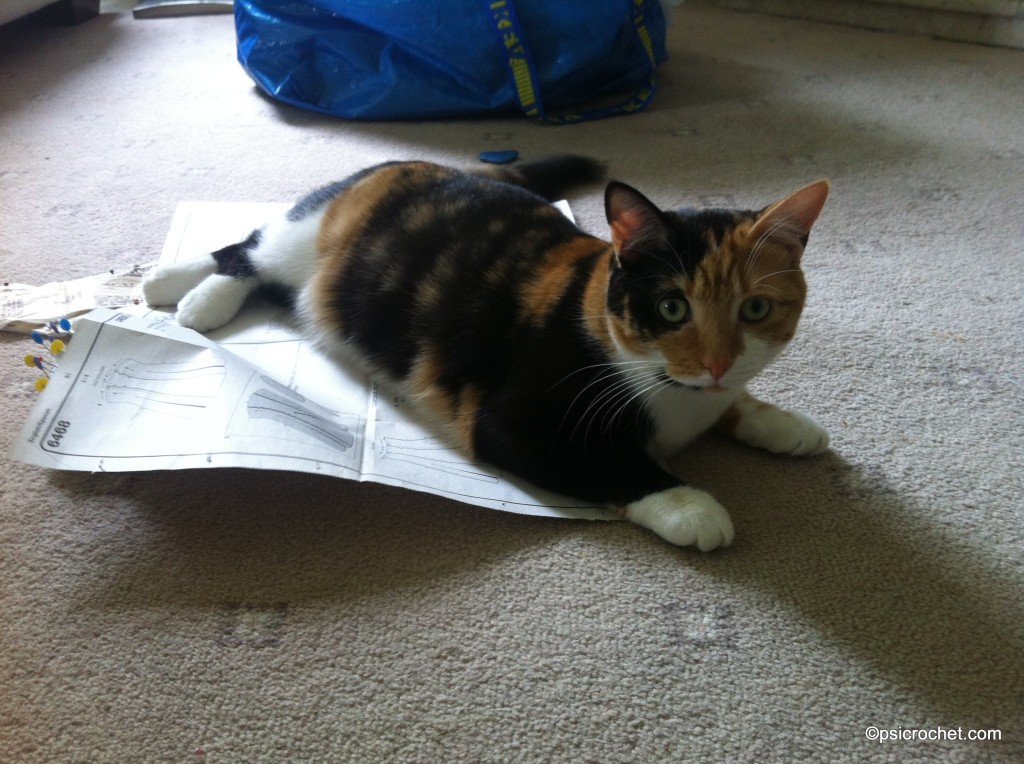 She then gave an invaluable demonstration when we moved onto the sewing machine.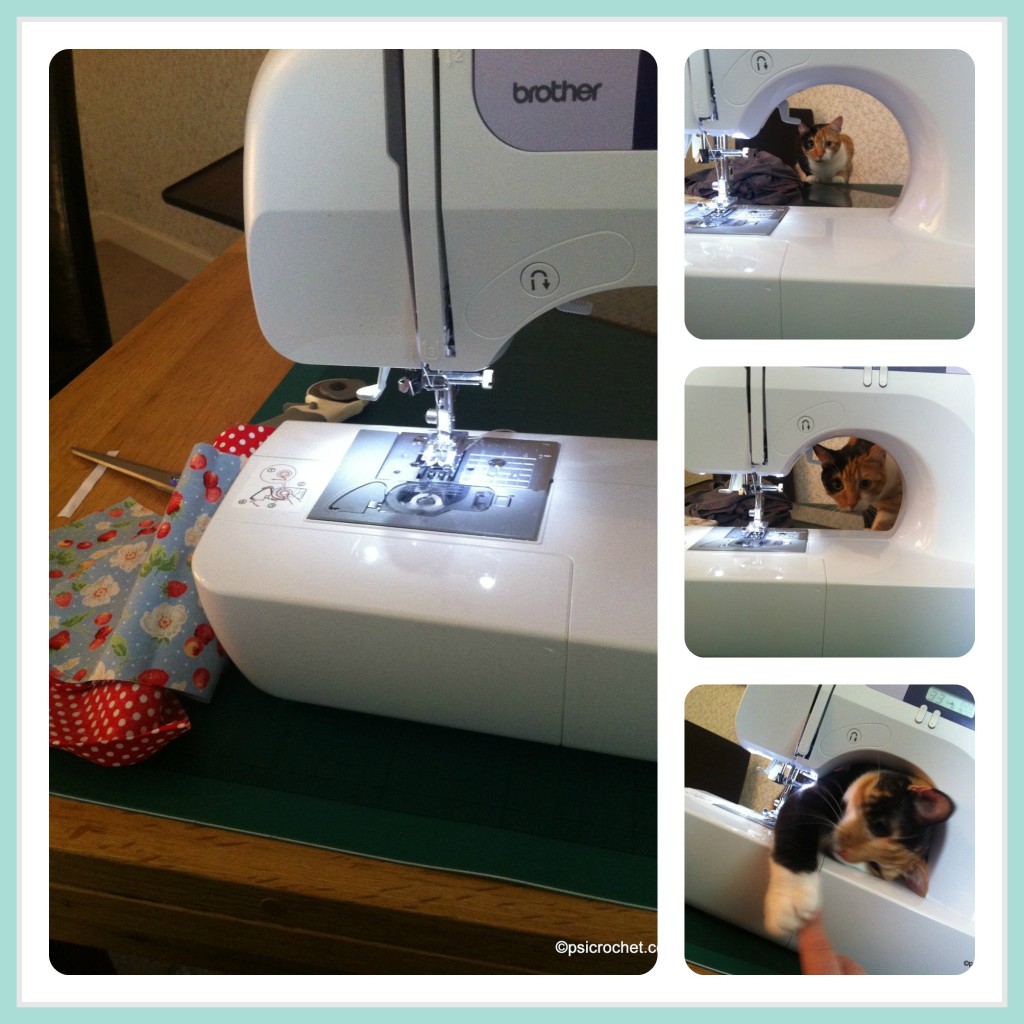 We learnt a great deal from the demonstration and Sophie then spent the rest of the afternoon in the corridor serenading us!
We also had a couple of days out, and visited Castle Douglas (great craft shop!) and Ayr.
We ate some delicious food…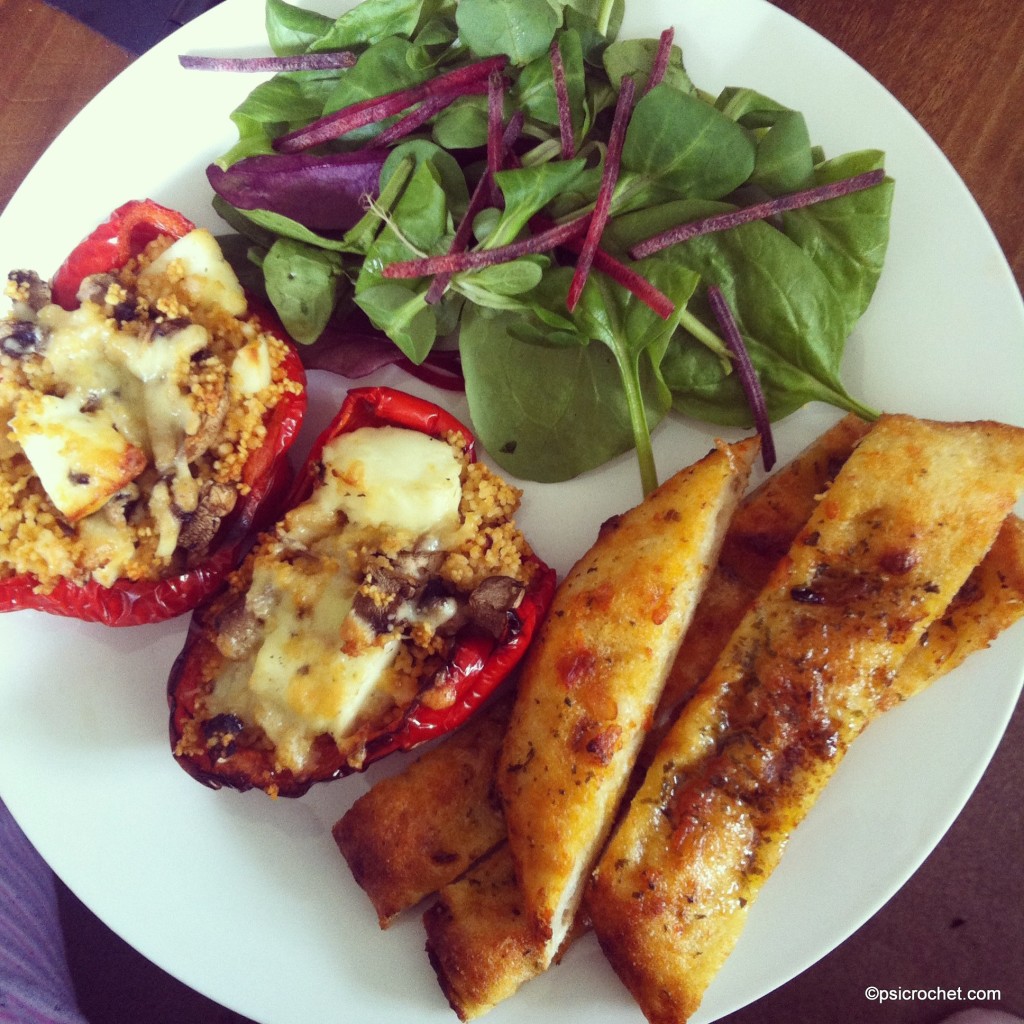 We enjoyed some pretty good weather.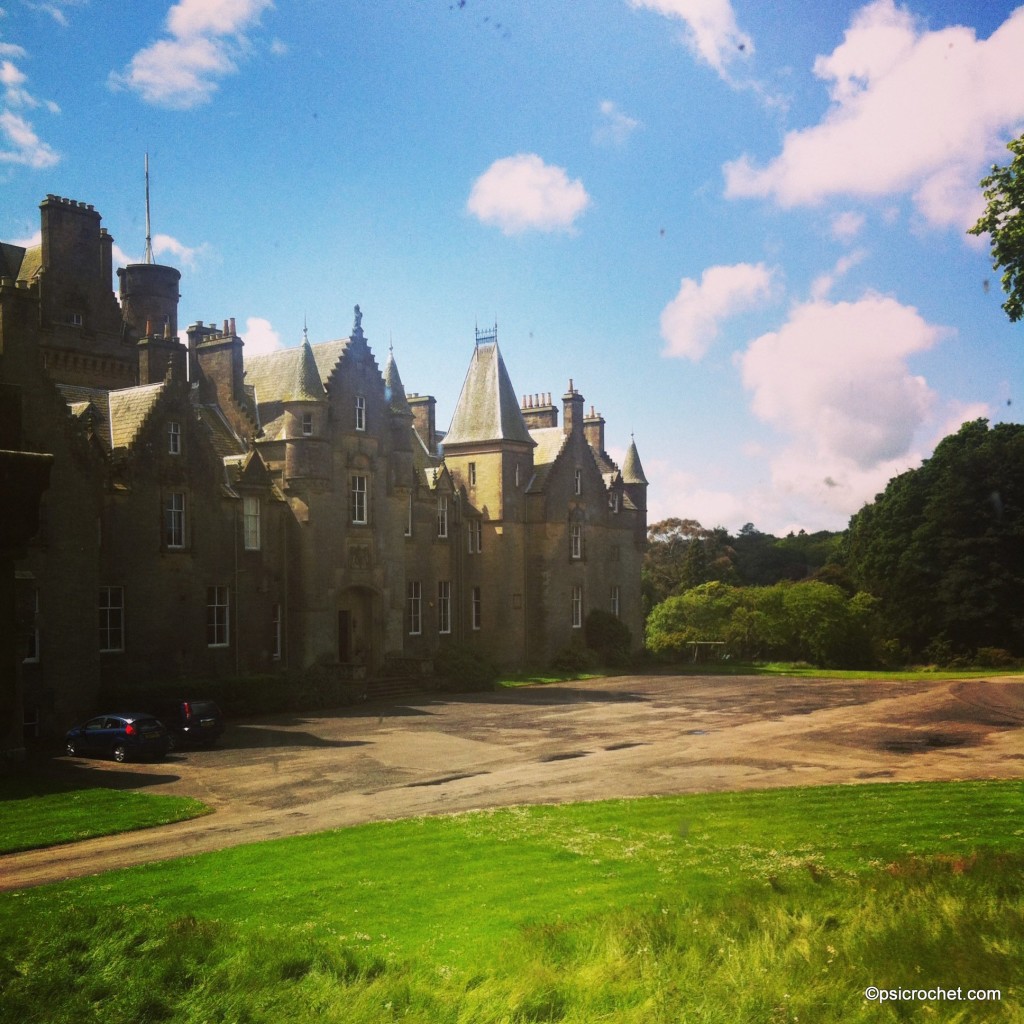 Until yesterday, when Emma was returning home and it poured down all day!  I drove her up to Glasgow where we did a bit of last minute shopping, grabbed a few bargains from Ikea, and we then made our way to the airport ready for Emma's flight back to London.  There was a slight delay on her flight, but we enjoyed a bite to eat and then sadly said goodbye.  I'll see her again in August – not too far away!
I returned to the car in the short stay car park and went to pay for my parking at the machine and it refused my card…  OMG not again!!!!!   Numpty alert…. Numpty alert….  What had I done now!  I didn't have my phone with me, so I couldn't find out what the problem was until I got home.  It was the sort of car park where you pay and it gives you a card to lift the barrier to get out. Thankfully I had another way to pay – the parking charge was £9 – yes £9 just for a couple of hours of parking. If I hadn't had another way to pay just imagine how much the car parking might have been if the car needed to stay there for any length of time – possibly more than the hackers got away with!
Anyway, out of the car park and driving through the still torrential rain I hoped to make a better job of finding my way home than the last time I returned from the airport.  That time had also been dropping Emma off, however my, admittedly oldish, sat nav thought it would be fun to take me around all of the  back streets of Glasgow – mainly because it continually wanted me to drive in the opposite direction on streets that were now one-way.  Consequently Emma got home before I did!
This time I was confidently armed with a more up to date machine and all went well until it took me off the motorway and tried to get me to turn right on a junction that would only allow me to turn left.  Her exasperated demeanor (my sat nav is a woman) as she recalculated seemed to indicate that I didn't know my right from my left (obviously my numpty status has got around) and not that she was completely ignorant of current road directions.  This then prompted her to guide me on a similar route to the one I must have taken last time, with a few localised flash floods thrown in to ramp up the excitement.  What fun!
I eventually got home and my weekly call to the fraud department found them just being a bit over zealous in their overseeing of my account.  They clearly couldn't believe it was £9 to pay for a couple of hours parking in Glasgow airport either!
Back to work tomorrow – sigh…
Take care of you, your money, and happy crafting!

Scottish usage:
a) Someone who (sometimes unwittingly) by speech or action demonstrates a lack of knowledge or misconception of a particular subject or situation to the amusement of others.
b) A good humoured admonition, a term of endearment
c) A reckless, absent minded or unwise person
a) "No. That wisnae wit she meant, ya big numpty!"
b) i.e. "Silly billy", "You big dafty"
c) "That numpty's driving with no lights on!"