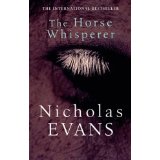 Synopsis
In the still of a snow-covered morning in upstate New York, a girl out riding her horse is hit by a 40-ton truck. Though horribly injured, both thirteen-year-old Grace Maclean and her horse Pilgrim survive. But the impact on their lives and the lives of those who love them is devastating.

Grace is the only child of a prominent New York magazine editor, Annie Graves, and her lawyer husband Robert. In a way which none of them at first understands, their destiny comes to depend on Pilgrim's. Annie refuses to have him destroyed, sensing that if she does, something in Grace will die too. She hears about a man in Montana called Tom Booker who is said to have the gift of healing troubled horses. Abandoning her job, she sets out across the continent, with Grace and Pilgrim, to find him.
I read this because I had recently seen the film.  How the film had passed me by for so long I'm not sure…  I'm not a huge horse fan, so perhaps it's that.  Anyway, I surprised myself by really enjoying it; it ambles along quite inoffensively with good performances by Kristin Scott Thomas and the still yummy Robert Redford.  I hoped to get from the book a bit more background into the main characters and I have to admit to being a little bit disappointed in the ending and I'd heard the ending was different in the book.  So onto the kindle store I went…
The beginning of the book is dominated by the horrifically graphic accident – I have to admit to squeamishly skimming some sections,  but it had to be got out of the way early on so…
The book, or I should say film, is then almost identical to the book.  Disappointingly I didn't find out much more about either Annie or Grace.  The only character that was fleshed out more was Tom – oh and the vets etc. looking after Pilgrim at the beginning of the book.  This is probably sexist, but hey ho, if I couldn't have looked at the cover to see who the author was I would have deduced that it was a man.  I feel that if the story had been told from a female perspective then the difficult relationship between mother and daughter would have been explored much more, and I thought it a shame that it wasn't.
SPOILERS AHEAD
Now one thing I thought the film did really well was focus on the attraction between Tom and Annie.  It was subtly understated; a long look here; the barest touch there…  I was unsatisfied that the end of the film saw Annie reluctantly leave.  So, bring on the original ending…
Well Annie & Tom consumated their relationship fairly early on in the story – so there was the lovely sexual tension gone and I felt it was all a bit wham, bam thank you very much mam.  Annie chose Tom (hurray I thought) which pissed off Grace royally who then took herself off leaving Tom to find her in the most dangerous situation imaginable (raise eyebrows in disbelief here).  Tom then gallantly sacrifices himself quite unimaginatively (really!!  keep them eyebrows up) to save Grace.  Bye bye Tom…  The final few paragraphs we learn that Annie has returned to her husband and is now pregnant but who's the father??? (my eyebrows have given up in disgust).  And Annie doesn't seem to harbor any grudges over her daughter causing her lover to die…
CONCLUSION
I should have just stuck with the film!  They had definitely got the ending right and the rest of the book was pretty true to the film anyway.  If I had read the book first I would have finished it (always a bonus) but the corny ending would have probably put me off seeing the film!
The book had no glaring spelling of grammer mistakes – which always annoy me greatly.
Will I read it again?   No.