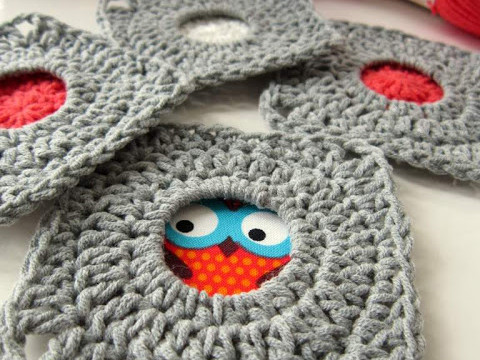 Project Description
Don't you love them?  I adore the way the outer circle is pulled into a perfect circle when you join the top layer to the bottom…  Not difficult to make, I'll walk you through it below.
I've made these with Sirdar Calico, a lovely dk weight cotton/acrylic mix and a 4.5 mm hook.  I use as always US crochet terms.
Abbreviations: ch/s – chain/s; sl st – slip stitch; sc – single crochet; hdc – half double crochet; dc – double crochet.
FOR A PRINTABLE PDF OF THIS PATTERN CLICK HERE.
Start by making the inner circle –
Make a magic circle, and chain 3, then work 11 dc into the ring, before tightening it up. 12 dcs.
2nd row: Work 2 dcs in each stitch. (24 sts.)  Fasten off & weave in ends.
Straightforward so far…
Now with the outer ring colour, make another magic circle.  Make the circle by wrapping the yarn twice around your middle fingers – you will need to be able to adjust this magic ring for size later.
Chain 2 (does not count as a stitch.)
Then work 24 hdcs into the ring.
Roughly adjust the size of the middle circle by comparing with the inner circle…
Join with a sl st to top of 1st hdc (not the ch 2). (24 sts)
Next row – we will join the inner and outer circles on this row by working into both at the same time.
Start by ch 3 on outer circle.
Then place outer circle over inner circle and work 1 dc in next stitch – ALSO CATCH IN THE CORRESPONDING STITCH ON THE INNER CIRCLE.
ENSURE THAT YOU CATCH IN THE INNER CIRCLE IN EVERY STITCH ON THIS ROUND.
*2dc in next stitch, 1 dc; rep from * around.
When you are about half way around the circle, make your final adjustments to the outer circle magic ring…  I needed to make mine a little bit bigger – but don't make it too loose!
Fasten off the magic loop end at this point securely by stitching back and forth behind the hdc stitches.
Carry on around the circle until you have 36 dcs.  Join with a sl st to the top of the 1st chain 3.
Make into a square by working – [1dc, 2 hdc, 2 sc, 2 hdc, 1 dc (1dc, ch 2, 1 dc in next stitch)] – repeat 3 more times.  Join with a sl st to 1st ch 3 and fasten off.
One Porthole Square…  but you don't have to put the inner circle in if you don't want to…  Just leave it out, and start with the outer circle…  you can put fabric behind instead if you prefer…
Let your imagination run away with you…